Who We Are
Enjoy Learning was established in 2006 for people who want to further their interests and enthusiasms without taking examinations.
These are some of the things people said about their classes: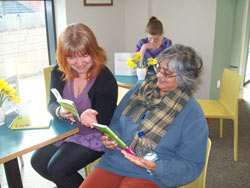 The Triangle is superb: light, bright, clean, welcoming... We have a great teacher in Sara at the Italian class: she is lively and encouraging; we have all made good progress. Thanks to Enjoy Learning for its efficient organisation
I would recommend this course for anyone. Lots of enjoyment without exam stress. Carol Thorpe
A very friendly environment. Excellent teaching. Good community spirit. An excellent way to make friends through learning a language. Sheila Gavahan
Enjoy Learning is a not for profit Association. Enrolling on one of our courses confers membership of the Association (see our constitution below).
Our fees are based on what it costs to run and though we do not normally offer concessions you can see that they are reasonable for what we offer.
Our classes are held at The Triangle Centre, The Triangle Annexe and Friends Meeting House. See full details of all our centres on the how to find us page.
Our courses are for adults over the age of 18.
We Guarantee:
That there are no examinations
That we work at your pace and help develop your interests
That everyone is made to feel welcome
That you will not be asked to fill in excessive paperwork